Sa Dec Flower Village blossoms as Vietnam's Lunar New Year approaches.
An entrance to one of the flower gardens in Sa Dec. Photo: Tuoi Tre
Sa Dec Flower Village has become well known amongst locals and foreigners for quite a time.
The village has been attracting thousands of visitors as Vietnam's Lunar New Year celebrations approach.
Flowers from a local park not only beautify the local area, but also contribute to brightening up other locations and events, with Sa Dec still one of the county's biggest suppliers of flowers and plants.
Colorful all year long, Sa Dec is a provincial city in the Mekong Delta province of Dong Thap, in southern Vietnam.
The city has maintained its position as an important economic port, as well as an agricultural and industrial trading center of the region.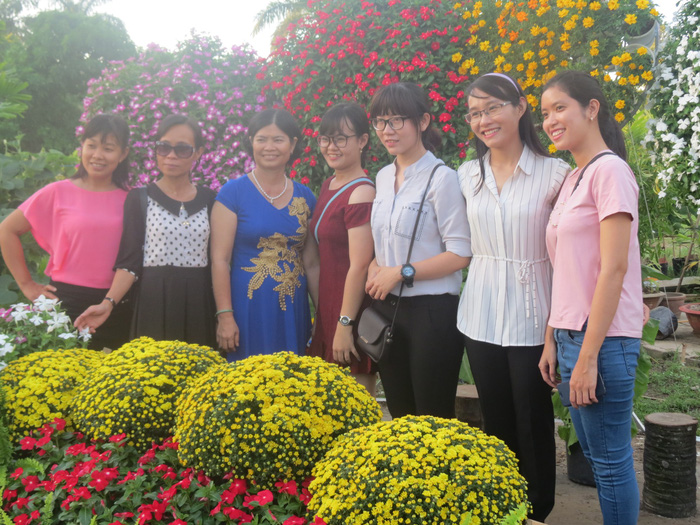 Tourists take a group photo in Sa Dec Flower Village. Photo: Tuoi Tre
Sa Dec Flower Village is 150 kilometers to the southwest of Ho Chi Minh City, close to the quiet Tien (Front) River, which supplies the area with a consistent, cool breeze.
Even though most people expect blossoming flowers to be on display only during Tet, the Vietnamese way to refer to the Lunar New Year festival due in less than four weeks, and spring, the village surprises visitors with its bright colors and beautiful decorations all year round.
Main supplier of flowers
Thanks to the devotion and creativity of the people who look after it, Sa Dec Flower Village includes a wide variety of flower types which contribute to the character of the garden.
The village dates back to the 18th century, when it was gifted to the people by the emperor of the reigning Nguyen dynasty.
Having fallen in love with the flowers' bright colors, people in the area at the time would regularly decorate their homes with the blossoms, and as the infatuation grew, so did the number of flowers grown and traded, with many Sa Dec locals turning their hand to floristry.
Sa Dec Flower Village. Photo: Tuoi Tre
Today the area is one of Vietnam's largest suppliers of plants and flowers.
Sa Dec is busy preparing for Tet as it is one of the most beautiful seasons of the year, with blossoming flowers welcoming the new lunar year.
Tet is the most important celebration in Vietnamese culture, based on the arrival of spring in the lunar calendar.
Local customs during this time include handing out red envelopes and visiting ancestors and relatives.
Importantly, Tet is the time that families gather, especially those who have moved away from their hometowns.
This year, Tet will be officially celebrated from February 14 to February 20, with the Lunar New Year arriving on February 16.
Flowers remain one of the most important decorations during the Tet period, as it is believed that they signify prosperity for the upcoming year.
Therefore, people in Sa Dec Flower Village are working hard to prepare themselves for the upcoming celebration.
One of the most common Tet flowers. Photo: Tuoi Tre
For this year's festivities, the village is growing over 100 hectares of flowers from 2,000 households in order to meet demand.
The flower gardens are investing in and growing new species of flowers so as to attract more visitors as well.
Some of the most common are the apricot blossoms, roses and other Tet favorites like orchids and tulips.
Apricot blossoms are in the highest demand during this period, with every household generally getting one to represent the Tet spirit.
A blossoming apricot plant is believed to bring good luck and prosperity for the upcoming year.
Other flowers and plants in high demand during the period are lilies, roses and carnations, which are also said to represent hope and belief.
In addition, this year the village will introduce new products including the China Aster flower, 200 different types of roses, and the Pepino plant (also known as sweet cucumber) from South America, which can be used as decorative foliage.
Flower collecting in Sa Dec Flower Village. Photo: Tuoi Tre
Lasting impression
Even with spring still to arrive, Sa Dec Flower Village already resembles a rainbow.
However, these flowers are more than just 'eye candy', they also carry a beautiful fragrance, meaning they never fail to leave a lasting impression on visitors.
Moreover, Sa Dec flower growers are well known for their friendliness, and are more than willing to spend time showing visitors around, explaining everything they know about the flowers in the garden.
This plays an important role in attracting tourists and visitors.
Sa Dec Flower Village has more to offer than just beautiful flowers, however.
Arriving at the village, visitors can also start growing their own pot of roses or hyacinth, which can be taken home or given as a thoughtful gift.
Flowers blossom as spring approaches in Sa Dec Flower Village. Photo: Tuoi Tre
Close to Tet is the best time to visit Sa Dec Flower Village.
Not only is it when the garden's flowers blossom, it is also the time that it becomes clear how important the area is for Vietnam's flower industry.
Being there for just one day, the number of trucks, cars and boats arriving to transport flowers to Ho Chi Minh City, Can Tho City, or An Giang Province is innumerable.
This year, Sa Dec will also hold a Flower Festival in Sa Dec Park, at Sa Nhien – Cai Dao Flower Street, and at Nguyen Hue Pedestrian Street in Ho Chi Minh City between January 25 and February 2.
The festival will host activities related to flowers, and will no doubt create further interest in the city of Sa Dec.
Like us on The Three Oaks Serviced Apartments Saigon  to get the latest news about Vietnam!
Collected by Tuoi tre news